The Canon 5D Mark IV was widely criticized right from the get-go because it wasn't what people wanted it to be. If it didn't appeal to all still photographers because its on-paper specs were less than dazzling compared to what's already out there with other brands like Sony and Nikon, and it enraged video shooters because it offered 4K only in cropped mode with a bigger bit rate and file size. And this drove away some potential video camera buyers. It is easy to focus on the things that the 5D Mark IV is not, but when looked at as a modern, Swiss Army knife of a working photographer's camera, there is a lot that the 5D Mark IV gets right. It may not be the body you wanted or dreamed of, but that doesn't take away from what the camera is: a solid, reliable piece of hardware.
Everyone will think that why I'm writing this review in 2019 as this camera is old and was launched way back in 2016, now newer mirrorless model Canon R is already launched at way less price than 5D Mark IV. Also, more feature rich models are available with higher specs in other brands like Sony and Nikon.
Here I am just trying to present my honest opinion as an amateur photographer, why and how 5D Mark IV satisfied all my photographic needs.
About my brief camera experience history; it all started when I was at the age of 13, I got a Ricoh film camera as a beginner from my father. Since then once I got my first job, I brought my first camera Sony DSC W70. Later I kept on upgrading my cameras until I was fully satisfied with Canon 5D Mark IV.
Following are the cameras I owned prior to my 5D Mark IV.
The 5D Mark IV is a 30.4 megapixel camera featuring a brand new sensor on Canon's part (this is the first 30 megapixel sensor they have made). It balances relatively high resolution with relatively good ISO performance. It's not market-leading in either of those categories, but it does well-enough in both to be a solid choice for nearly any shooting condition. Thanks to the DIGIC 6+ image processor, the sensor offers a native range of ISO 100-32000, which can be expanded to ISO 50-102400.

As far as I'am concerned I never go beyond 12500 ISO mark and whatever image I need to take it was well below 3200 ISO mark.
By using a 150,000-pixel RGB+IR metering sensor, you are able to more comfortably trust the camera to capture difficult scenes. This sensor also has face detection as well as flicker detection which can ensure proper exposure in less-than-ideal lighting situations. The 5D Mark IV can also continuously shoot at a rate of 7 frames per second. The white balance of this unit is spot-on and it makes seting AWB a breeze.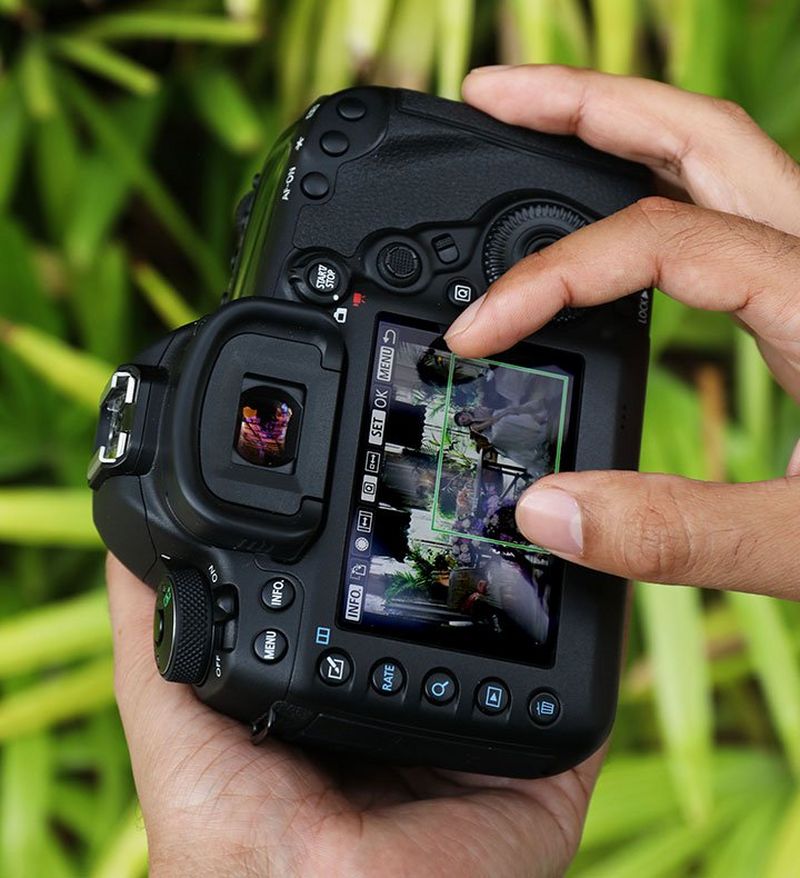 Canon also added what they are saying is the same autofocus system that exists in the stellar 1DX Mark II, High Density Reticular AF with 61 phase-detect points, with all points sensitive to f/8 and 41 of which are cross-type. The center point can function down to -3 EV for working in extremely dim lighting. Compared to previous versions, this sensor has expanded vertical coverage of 24% on the peripherals and 8% in the center in order to better track and locate subjects in the frame.
As far as body design and features go, the 5D Mark IV has quite a few:
A 3.2″ 1.62m-dot Clear View II LCD monitor with an anti-reflective design for easy viewing in varied lighting conditions, and its touchscreen interface can be used for intuitive touch-to-focus control (like in the 1DX) but also for general navigation and control of the menus, which is nice.
A new dedicated AF mode selection button located beneath the rear joystick allows for quick access of commonly changed settings and is also customizable for other functionality.
Dual CompactFlash and SD memory card slots
An Intelligent Viewfinder II uses a pentaprism design and when using the viewfinder, AF points are highlighted in red for greater visibility in low-light conditions, and the finder can also be configured to display a range of other shooting aids, such as an electronic level, grid, flicker detection, white balance, metering mode, AF information, and other settings.
A Mirror Vibration Control System helps to minimize mechanical vibrations
A built-in GPS module
A built-in intervalometer (finally) that supports recording 1-99 consecutive frames in pre-selected intervals from 1 second to 99 hours 59 minutes and 59 seconds.
Built-in Wi-Fi and NFC
Look, let's be real here: the way the camera looks, feels and operates is not much different from what you're used to if you've been shooting on a Canon DSLR for the last 10 years. The body is light but not flimsy. The controls are where you're used to finding them, and there are numerous accessory ports along the sides and front of the body. The most notable change for those who time-lapse will be that the intervalometer port is no longer on the side of the camera, but now located on the lower right hand side of the body (when viewed from the front).
Otherwise, this body feels just as good as its predecessors. Consistency is good, and this body is a model of it.
Quality of Images
The Canon 5D Mark IV continues with the impressive image quality I found in the 5D Mark III. Files are really beautiful, and 30.4 megapixels is a nice upgrade from the 5D Mark III's 22.3. As far as dynamic range is concerned, I was really impressed with the 5D Mark IV. Highlight recovery is really good, and shadow recovery is as excellent as ever.
Any photographer will admit that the 5D Mark III had a magical skin tone compared with any other camera, I was able to recreate the same tone with a little tweaking work in the picture profile. Normally I shoot with Jpeg and simultaneous Raw shooting on. Any difficult lighting condition image only I rework with Raw, rest all my shots are taken in Jpeg with corrections in Lightroom using my Loupedeck. Earlier when pixel peeping was done with images from 5D Mark III, I always wanted a little bit of sharpening in portraits without making the skin rough. The 5D Mark IV is the answer for that, with correct adjustment settings made in camera Portrait profile the magical skin tone of 5D Mark III is achived with correct sharpness without making the skin rough. The skin tones of canon image have the pleasing magenta and my previous Nikon and Sony had the greenish skin tones. I personally prefer the canon tones.
Video Features

Look, I am going to spend very little time here because this topic has been beat into the ground by many others before me already: the video on the 5D Mark IV in HD mode is perfect but anyone who considers themselves a "pro" desiring to take 4K will be disappointed. The crop factor for 4K is 1.74x, there are no video features like focus peaking. The bit depth is a measly 8 which with 4:2:2 at 4K and 4:2:0 in 1080. No HDMI out in 4K.
Usability, Reliability, Longevity

Eventually a camera is more than its on-paper specs. It's stuff like finding out battery life and heat dispersion is an issue, or that button placement is cumbersome, or that it has a problem writing quickly to memory cards. Things like that, which are legitimate problems on a host of top-tier camera releases lately, are things you never see written down on the specs sheet. You have to use the camera to really know.

I've shot with the 5D Mark IV in extreme cold condition where my iPhone stopped recording and became frozen.
The ISO performance is nothing to get excited about, but it's not bad either. As mentioned, it's not market leading, but it's good enough to do generally anything a working professional is going to find himself up against.
The camera while shooting can store photo in memory card and can simultaneously live stream to computer, Mobile or an iPad via WiFi (using the Canon app).
The images I took all came out tack sharp and in focus, which is as much a testament to the lens as it is to the body. At any rate, the autofocus never had an issue in the both environments.
There is a lot about this camera to point at and hate on, and Canon is an easy target given their position in the market and the number of people who demand a lot of them. Though the 5D Mark IV isn't anything over the top special, it is still an excellent camera. The battery life is outstanding, the images are gorgeous, the weight and performance of the body itself are unquestionably a fit for the professional shooter, and the sheer number of things this camera can do compared to the competition is impressive.
This is a landscape, wildlife, event, wedding, concert, and walk-around camera. It can do just about anything you need it to and handle nearly any situation well.